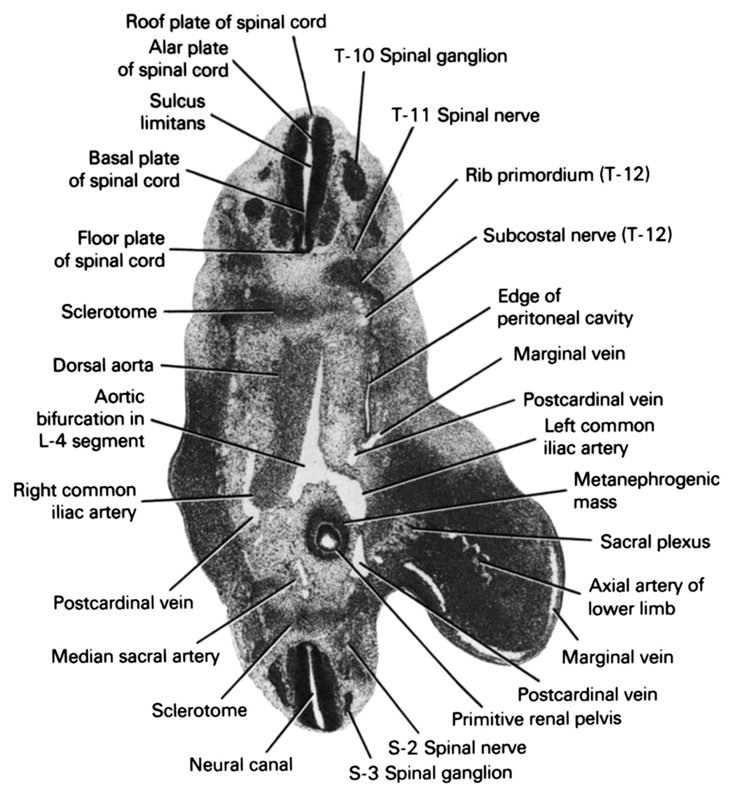 A section through the T-10 and S-3 spinal ganglia.

Observe:
1. The spinal cord in oblique section.
2. The bifurcation of the dorsal aorta in the L-4 segment into right and left common iliac arteries.
3. The left metanephrogenic mass caudal to the bifurcation.
4. The axial artery and marginal vein of the lower limb bud.


Keywords: S-2 spinal nerve, S-3 spinal ganglion, T-10 spinal ganglion, T-11 spinal nerve, alar plate of spinal cord, aortic bifurcation in L-4 segment, axial artery of lower limb, basal plate of spinal cord, dorsal aorta, edge of peritoneal cavity, floor plate of spinal cord, left common iliac artery, marginal vein, median sacral artery, metanephrogenic mass, neural canal, postcardinal vein, primitive renal pelvis, rib primordium (T-12), right common iliac artery, roof plate of spinal cord, sacral plexus, sclerotome, subcostal nerve (T-12), sulcus limitans
Source: Atlas of Human Embryos.