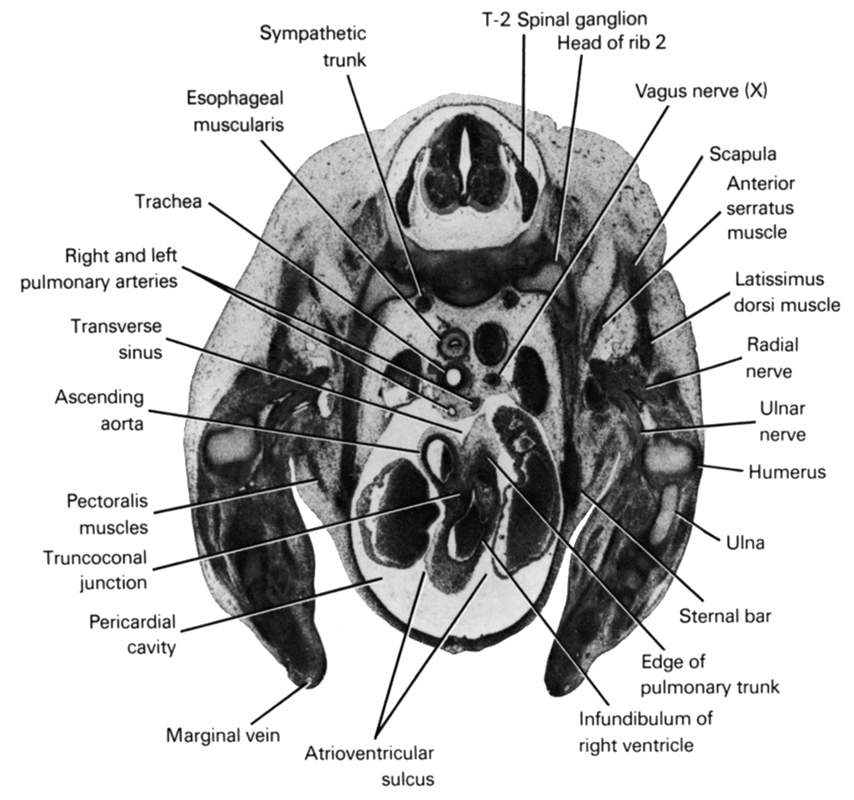 A section through the T-2 spinal ganglion.

Observe:
1. The ascending aorta dorsal to the infundibulum of the right ventricle at the level of the truncoconal junction.
2. The transverse sinus that separates the cranial (arterial) part of the mesocardium (see Section 27) from the caudal (venous) part (see Section 31).
3. The right pulmonary artery passing to the right between the ascending aorta and trachea.
4. The anterior serratus muscle attaching the scapula to the ribs.
5. The sternal bar at the ventral end of rib 2.


Keywords: T-2 spinal ganglion, anterior serratus muscle, ascending aorta, atrioventricular sulcus, edge of pulmonary trunk, esophageal muscularis, head of rib 2, humerus, infundibulum of right ventricle, latissimus dorsi muscle, marginal vein, pectoralis muscles, pericardial cavity, radial nerve, right and left pulmonary arteries, scapula, sternal bar, sympathetic trunk, trachea, transverse sinus, truncoconal junction, ulna, ulnar nerve, vagus nerve (CN X)
Source: Atlas of Human Embryos.