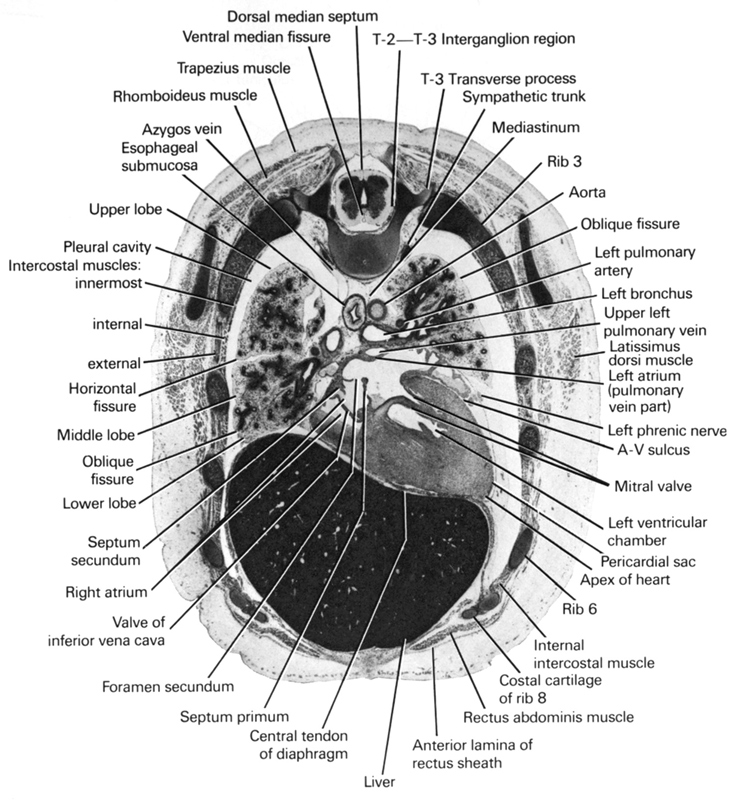 A section through the apex of the heart, root of the lungs and T-2–T-3 interganglion region.

Observe:
1. The central tendon of the diaphragm between the heart and liver to which the pericardial sac attaches.
2. The mitral valve between the left atrial and ventricular chambers.
3. The left phrenic nerve coursing in the pericardial sac to the diaphragm.
4. The oblique and horizontal fissures in the right lung dividing it into upper, middle and lower lobes.
5. The three intercostal muscles in an intercostal space.


Keywords: T-2 / T-3 interganglion region, anterior lamina of rectus sheath, aorta, apex of heart, atrio-ventricular sulcus, azygos vein, central tendon of diaphragm, dorsal median septum, esophageal submucosa, external intercostal muscle(s), horizontal fissure, innermost intercostal muscle(s), internal intercostal muscle(s), latissimus dorsi muscle, left atrioventricular (mitral) valve, left atrium (pulmonary vein part), left bronchus, left phrenic nerve, left pulmonary artery, left upper pulmonary vein, left ventricular chamber, liver, lower lobe of right lung, mediastinum, middle lobe of right lung, oblique fissure, pericardial sac, pleural cavity, primary interatrial septum (septum primum), rectus abdominis muscle, rhomboideus muscle, rib 3, rib 6, rib 8 (costal cartilage), right atrium, secondary interatrial foramen (foramen secundum), secondary interatrial septum (septum secundum), sympathetic trunk, transverse process of T-3 vertebra, trapezius muscle, upper lobe of right lung, valve of inferior vena cava, ventral median fissure
Source: Atlas of Human Embryos.