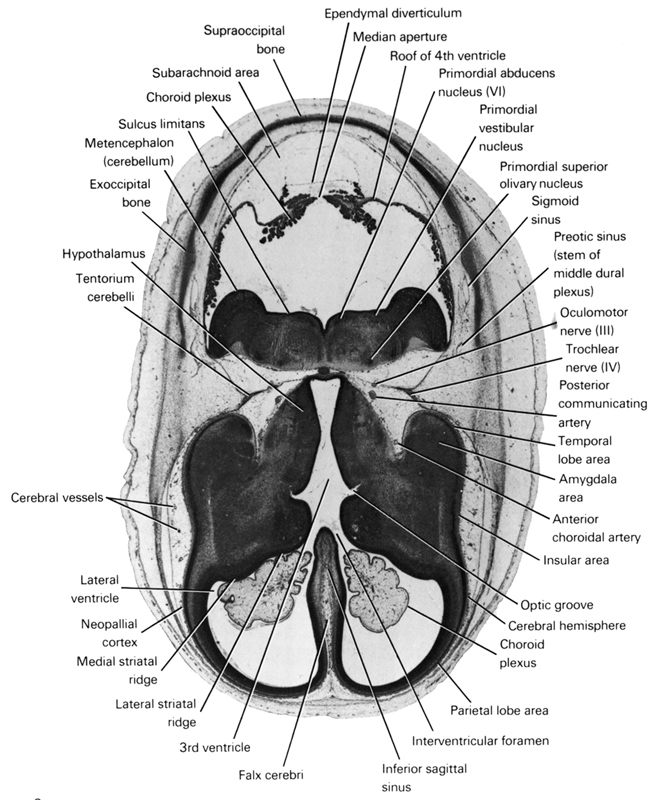 A section through the cerebral hemispheres, hypothalamus and metencephalon.

Observe:
1. The medial and lateral striatal ridges of the striatal part of the cerebral hemispheres.
2. The interventricular foramen connecting the lateral and third ventricles.
3. The amygdala area in the rostral part of the temporal lobe area.
4. The primordial nuclei in the metencephalon.
5. The choroid plexus and median aperture of the ependymal diverticulum in the roof of the fourth ventricle.


Keywords: amygdala area, anterior choroidal artery, cerebral hemisphere, cerebral vessels, choroid plexus, ependymal diverticulum, exoccipital bone, falx cerebri, hypothalamus, inferior sagittal sinus, insular area, interventricular foramen, lateral striatal ridge, lateral ventricle, medial striatal ridge, median aperture, metencephalon (cerebellum), neopallial cortex, oculomotor nerve (CN III), optic groove, parietal lobe area, posterior communicating artery, pre-otic sinus (stem of middle dural venous plexus), primordial abducens nucleus, primordial superior olivary nucleus, primordial vestibular nucleus, roof of rhombencoel (fourth ventricle), sigmoid sinus, subarachnoid area, sulcus limitans, supra-occipital bone, temporal lobe area, tentorium cerebelli, third ventricle, trochlear nerve (CN IV)
Source: Atlas of Human Embryos.