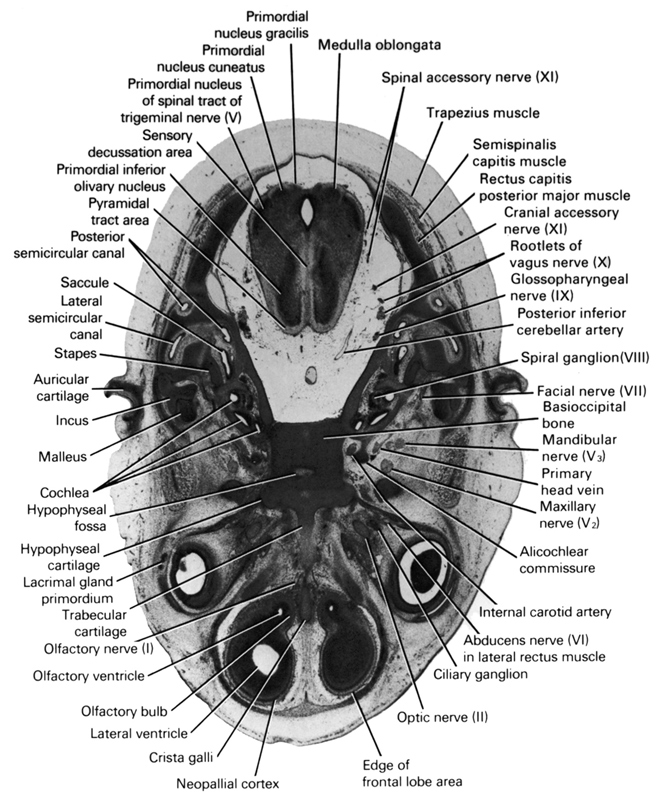 A section through the edge of the cerebral hemispheres (frontal lobe area) and medulla oblongata.

Observe:
1. The olfactory bulb on the underside of the frontal lobe.
2. The lacrimal gland primordium, ciliary ganglion, optic nerve and the lateral rectus muscle.
3. The middle ear ossicles medial to the auricle.
4. The cartilaginous components of the skull base.
5. The primordial nuclei and tract areas in the medulla oblongata.


Keywords: abducens nerve (CN VI) in lateral rectus muscle, alicochlear commissure, auricular cartilage, basi-occipital bone, ciliary ganglion, cochlea, cranial accessory nerve (CN XI), crista galli, edge of frontal lobe area, facial nerve (CN VII), glossopharyngeal nerve (CN IX), hypophysial cartilage, hypophysial fossa, incus, internal carotid artery, lacrimal gland primordium, lateral semicircular canal, lateral ventricle, malleus, mandibular nerve (CN V₃), maxillary nerve (CN V₂), medulla oblongata, neopallial cortex, olfactory bulb, olfactory nerve (CN I), olfactory ventricle, optic nerve (CN II), posterior inferior cerebellar artery, posterior semicircular canal, primary head vein, primordial inferior olivary nucleus, primordial nucleus cuneatus, primordial nucleus gracilis, primordial nucleus of spinal tract of trigeminal nerve (CN V), pyramidal tract area, rectus capitis posterior major muscle, root of vagus nerve (CN X), saccule, semispinalis capitis muscle, sensory decussation area, spinal accessory nerve (CN XI), spiral ganglion (CN VIII), stapes, trabecular cartilage, trapezius muscle
Source: Atlas of Human Embryos.