Teacher Training Seminar Agenda (Sample)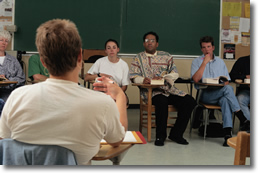 EHD's low cost training seminars are designed to update teachers regarding the science of early human development, help educators apply this science to improve health, and equip teachers to use our curricular materials in the classroom.
We will soon be announcing our seminar schedule and fee schedule. Additionally, we will offer online registration as we approach product distribution.
A typical seminar agenda is shown below:
EHD's Teacher-Training Seminar Agenda

Time

Segment

Duration (min)

8:00 – 8:30

Registration / Refreshments

8:30 – 8:40

Introduction to The Problem and its Consequences

10

8:40 – 8:55

Pre-Test

15

8:55 – 9:00

DVD Features and Navigation

5

9:00 – 9:50

The Biology of Prenatal Development (BPD) DVD

50

9:50 – 10:05

How Prenatal Development Education Improves Health

15

10:05 – 10:20

Post-Test

15

10:20 – 10:35

BPD Q&A

15

10:35 – 10:50

Break / Refreshments

10:50 – 11:30

EHD Website Review and Q&A

40

11:30 – 12:15

Teacher Feedback and Small-Group Discussion

45

12:15 – 12:25

BPD Study Guide

10

12:25 – 12:40

Assessment Review

15

12:40 – 12:45

Summarizing The Solution

5

12:45

Adjourn

Total 240 minutes
(4 hours)

12:45 – 1:00

Individual Q&A (Optional)