Image Gallery

Single-Cell Embryo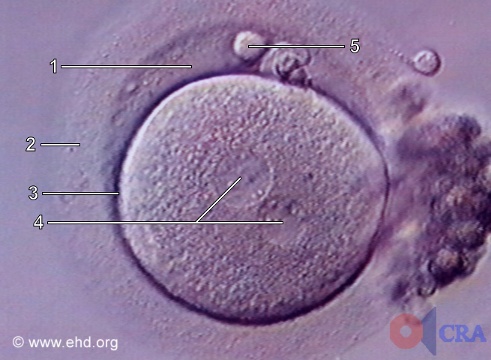 Source: Centro Riproduzione Assistita, Catania, Italy.
Note:
The two pronuclei—one male and one female—each contain the DNA from one parent that will join to form the unique genetic makeup of a new individual. The imminent mingling of the parents' DNA is the final step of fertilization.
Note:
The zona pellucida performs several vital roles in the reproductive process. Following the entrance of a single spermatozoon, it undergoes a reaction called the "zona reaction" rendering the wall of the oocyte/zygote impermeable to penetration by additional spermatozoa.
Label Key:
1. perivitelline space
2. zona pellucida
3. cell membrane
4. male and female pronuclei
5. polar body
All ages referenced to fertilization, not last menstrual period.