TEACHER TRAINING - Introduction
As part of our effort to provide continuing education to teachers, EHD offers teacher seminars and plans to have online courses available soon.
PRESENTATION SCHEDULE
EHD welcomes opportunities to introduce our organization, DVD, website, and other teaching tools to educators across the country. We are eager to help meet the continuing professional education needs of health and science educators and equip them to present our materials in the classroom.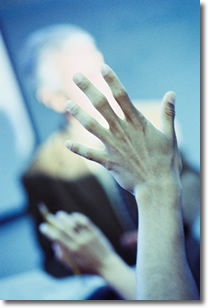 PRESENTATION REQUEST FORM
Educator training is an integral part of EHD's mission. If you have a specific professional educators conference in mind for us to speak at, please complete all applicable details on this form.
SAMPLE SEMINAR AGENDA
EHD's low cost training seminars are designed to update teachers regarding the science of early human development, help educators apply this science to improve health, and equip teachers to use our curricular materials in the classroom.
TEACHER TRAINING TUTORIAL
In just about an hour, learn about the vital link between prenatal and lifelong health, and how to use EHD's extensive array of free resources to impact your students.
ACCREDITATION
In order to provide the highest quality education for teachers and students, EHD plans to be accredited as a continuing professional education provider in as many states as possible.