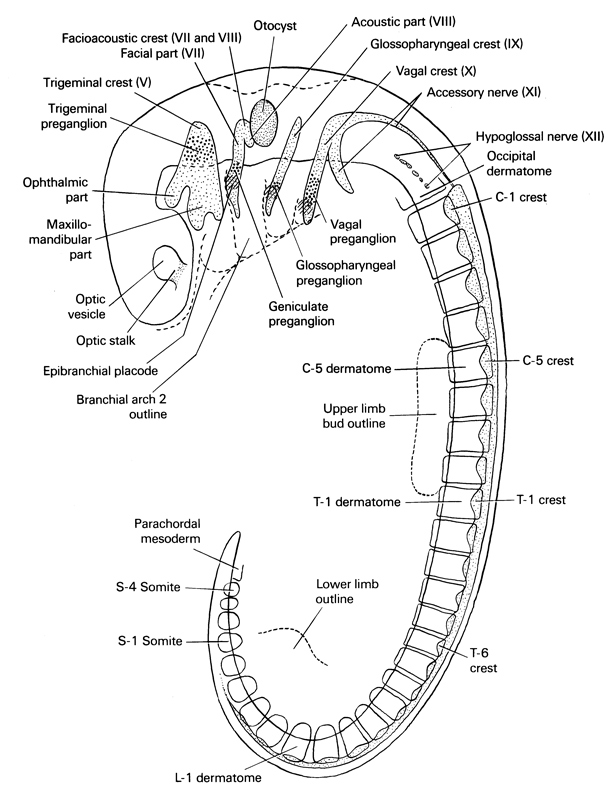 Peripheral nervous system of the 5-mm embryo. Preganglion cells (large stipple) are evident in the cranial neural crests and form near placodes (striped areas).

Keywords: C-1 crest, C-5 crest, C-5 dermatome, L-1 dermatome, S-1 somite, S-4 somite, T-1 crest, T-1 dermatome, T-6 crest, accessory nerve (CN XI), acoustic part of crest (VIII), epipharyngeal placode, facial nerve (CN VII), facio-vestibulocochlear neural crest (CN VII and CN VIII), geniculate preganglion (CN VII), glossopharyngeal neural crest (CN IX), glossopharyngeal preganglion (CN IX), hypoglossal nerve (CN XII), lower limb, maxillomandibular part, occipital dermatome, ophthalmic part, optic stalk (CN II), optic vesicle, otocyst, parachordal mesoderm, pharyngeal arch 2, trigeminal neural crest (CN V), trigeminal preganglion (CN V), upper limb bud, vagal neural crest (CN X), vagal preganglion (CN X)
Source: Atlas of Human Embryos.