Become an EHD Affiliate and Add Stunning Prenatal Imagery to Your Website—and Earn Revenue
Is your organization involved in pregnancy-related education? Are you looking for prenatal imagery that will help your visitors appreciate the wonder of early human development? Would your organization benefit from additional revenue? If you answered yes to any of these questions, please read on.
The Endowment for Human Development (EHD), a 501(c)(3) [nonprofit] corporation dedicated to improving health science education and public health, is pleased to invite owners of websites involved in pregnancy-related education to join our new (and free) affiliate program.
Video Clips
Joining will give you instant access to a collection of engaging video clips from our science documentary [see example on right] along with instructions for customizing and displaying them on your website.
The video clips on your website will contain your unique affiliate identifier along with links to EHD's website, where viewers can learn more about prenatal development and purchase a copy of EHD's documentary, The Biology of Prenatal Development. For every purchase made by someone referred from your website, your organization will earn a 10% commission.
Benefits of Joining EHD's Affiliate Program
Becoming an EHD Affiliate will enable you to:
Help provide everyone with a visual appreciation of early human development.
Improve the content of your website with great prenatal imagery.
Earn revenue for your organization.
Be part of the greater effort to teach people all over the world about the wonders of early human development. Revenue from

dvd

sales will enable EHD to create

dvd

and web resources in hundreds of languages and promote prenatal education globally.
How EHD's Affiliate Program Works
You will earn
10%
of the
dvd
revenue
generated by your
referred visitors.
Complete the free application/registration process at affiliate.ehd.org by providing contact information and agreeing to abide by the affiliate agreement.
Login to your affiliate account and click on TOOLS and then MOVIES.
Customize as many of the prenatal video clips as you wish by following the three-step instructions.
Copy and paste the provided html code into your html editor to embed the video clips on your website.
Earn 10% of the

dvd

revenue generated by your referred visitors for up to 7 days following their visit to the EHD website.
Other Key Points
EHD does not need or want your credit card or bank account information.
Links to EHD's website will open in a new tab or window, leaving your website open beside or behind EHD's site.
The movie clips play from EHD's server. EHD pays for the bandwidth expense required to play the movie clips on your website.
Participation is voluntary and you may withdraw at any time without penalty.
EHD will promptly fulfill

dvd

orders and handle all credit card processing, refunds, and accounting duties.
You will also be provided with banner ads and text links enabling you to promote

dvd

sales through your email newsletters and regular email correspondence to whatever extent you desire.




Coming soon –




en Español

EHD's headquarters and fulfillment center are located exclusively in sales tax-free New Hampshire.
All personal information regarding EHD affiliates and EHD web store customers is transmitted using high-grade encryption (aes-256, 256-bit) and is stored on secure servers. This information will not be shared or sold.
Equip your community by encouraging your donors to purchase

dvd

s through your website and donate them to local schools, health and science teachers, doctors, nurses, public libraries, families, youth organizations, and clergy members.
EHD will soon add an all-Spanish version of the

dvd

to our store, providing another product for revenue sharing. At that time we will also provide affiliates with embeddable all-Spanish video clips for promoting prenatal education among Spanish-speaking audiences and communities.
About The Biology of Prenatal Development
The Biology of Prenatal Development dvd is a 42-minute documentary, which explains the science and shows the wonder of human prenatal development from fertilization to birth. It features rare intrauterine videography of the living human embryo and early fetus starting just 4½ weeks after fertilization and communicates a visual understanding of early human development in a most memorable way.
The program was produced in conjunction with human development experts and has been endorsed by a wide variety of educators.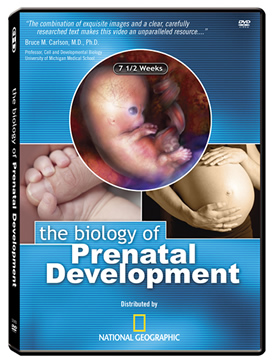 What people are saying...
"This visually compelling video provides important insights into the dynamism of the developing human embryo. The images can be used to supplement existing teaching tools in courses on developmental biology.|Mark J. Holterman, M.D., Ph.D., FAAP, FACS
Assistant Professor of Surgery
Division Chief, Pediatric Surgery
University of Illinois College of Medicine at Chicago*

* Institutional endorsement neither stated nor implied."



<< Previous
Next >>
Winner of 11 video awards
Subtitles in Spanish and French, closed captioned in English for the hearing impaired
Recommended for ages 10 and above
Distributed by National Geographic

Script available in 92 languages
Licensed for public showings (non-broadcast), home use, and classroom use
Approved by Focus on the Family for their Benevolent Resources Program
If you have additional questions, please write us at or call 603-228-8808.