Note to Educators
Imagine giving students a visual appreciation of early human development, and showing them the interconnectedness of prenatal health and lifelong health.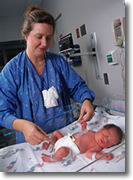 Human development research and advances in medical imaging, DVD, and Internet technologies are transforming our understanding of ourselves. These advances link prenatal health to lifelong health, and enable the creation of powerful teaching tools that communicate an unprecedented visual understanding of critical development events to scientists and nonscientists alike.
We anticipate this type of education will lead to improved prenatal care and a sharp reduction in the use of many harmful substances (alcohol, tobacco, etc.) before, during, and after pregnancy. The public health benefits are enormous: improved maternal health, prevention of certain birth defects and learning and behavioral disabilities, reduced health care and special education costs, and enhanced educational potential for students of all backgrounds and economic strata.
At The Endowment for Human Development we are dedicated to working with educators like you, as well as health care and public health professionals, government officials, curriculum developers, and others to broadly implement this type of education and make these benefits a reality. Toward that end, our nonprofit organization is equipping educators, clinicians, and governments to help everyone appreciate, apply, and communicate the science of health and human development.
An important component of our education program is EHD's award-winning documentary, The Biology of Prenatal Development. This 42-minute DVD captures the wonder and explains the remarkable science of human development from fertilization through birth. Please check our BPD DVD page for purchasing information.
This site offers a wide range of supporting materials for this documentary, and much more—all at no cost to registered teachers. We invite you to explore and consider how students can benefit from our diverse educational resources. Use the interactive prenatal development timeline, view our extensive image gallery, and create customized fact sheets, quizzes, and timelines. These are just a few of the tools created to help educators learn and teach the science of human development.
Please contact us with questions and feedback or to offer any suggestions you may have for achieving these worthwhile goals. We are here to help and look forward to working with you.